Nebraska Motorcycle Accident Lawyer
King of the road. The wind in your hair. Easy Rider. There is nothing like the feel of the road and the freedom that riding a motorcycle gives for those who ride.  If you ride for fun, or if your motorcycle is your main source of transportation, you know you run a higher risk of injury than someone driving a car.
In many instances, motorists have a hard time sharing the road with motorcycles. A motorist may not watch for or see a motorcycle rider. Unfortunately, there is a view held by some that a motorcycle rider is inherently an unsafe and dangerous driver. You may be a safe motorcycle rider and still be involved in an accident.
As a motorcyclist, you may be subject to other car drivers who purposefully try and make it difficult for you to drive safely. They cut you off in traffic forcing you into an accident and later claiming they did not see you. Without the protection of 4 doors, your injuries may be minor or major. In any case, you need the assistance of a lawyer who can defend your rights to the road and get you the compensation you need for your injuries.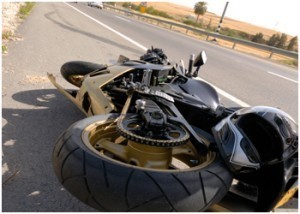 Motorcycle Accident
Choose a lawyer with experience in motorcycle accident cases. A lawyer who can help you navigate the legal and medical challenges you will certainly face. A lawyer who can protect you in court and get you the compensation you deserve.
As a motorcycle rider, your injuries may include serious head and neck injuries, back injuries, broken bones, and lacerations. Time is critical after a motorcycle accident. The insurance company will contact you as soon as possible to try and try to get you to settle your claims right away without an attorney. Make sure you make the right decision to ensure the compensation you will need for medical expenses, loss of property, time off work and your pain and suffering.  Navigating a motorcycle accident by yourself without an experienced motorcycle accident attorney is not in your best interest.
Motorcycle Injury Lawyer
Have you suffered an injury due to the negligence of another driver, a defective motorcycle, or a dangerous road condition? If so, you need an attorney that understands your situation and can get you the compensation you deserve.
Personal injury lawyer Dale D. Dahlin has been handling motorcycle accident cases for more than thirty years. He has the experience and expertise you need to obtain a fair settlement or a favorable verdict against the parties responsible for your injuries.
If you've been involved in a motorcycle accident, you first calls are to 911 and your family. Make your next call to us, Dale D. Dahlin, PC. at (402) 423-4300. Together, we can make sure you get the compensation you deserve for your motorcycle accident.